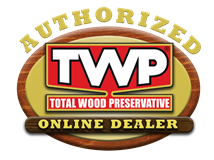 TWP Wood and Deck Stain Update for 2023
Welcome to the official help site for TWPStain.com.
TWP® 100 Pro-Series will keep your wood beautiful, fresh, and looking new longer! The ease of application and maintenance will allow you to enjoy your investment for years to come. Containing unique ingredients that protect the wood from damage, TWP 100 Series has been a leader and respected product for over 25 years.
TWP® 100 Pro-Series provides a broad spectrum of weather protection, is water repellent, and aids in color retention. TWP® 100 Pro-Series resists water absorption that causes warping, cracking, splitting, and prevents freeze damage in colder climates. Use TWP® 100 Pro-Series to Restore and Protect YOUR GREAT OUTDOORS!
TWP 1500 Total Wood Preservative is an EPA-registered wood preservative for decks, fences, gazebos, cedar siding, wood shakes, log homes, outdoor furniture, and other exterior wood surfaces. TWP wood preservative offers outstanding protection from UV fading, wood rot, water damage, and mildew for all types of wood species.
The TWPStainHelp.com site is designed for exterior wood and deck owners looking for solutions to their wood maintenance questions. We have gathered information based on years of experience. From TWP stain tips and wood maintenance advice to prepping new wood and how-to articles, we will guide you step by step to achieve professional-like results using any of the TWP wood preservative products.
Please read our articles and feel free to ask any questions that you may have about restoring your exterior wood or decking surfaces. The information you need regarding wood and deck restoration and TWP deck stains are all here. Please enjoy and remember that we are here to help.