Last Updated on January 30, 2023 by TWP Help
Who manufacturers TWP Wood Stains?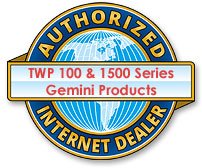 TWP (Total Wood Preservative) has been around for over 20 years as an EPA registered wood preservative. It is one of the most premium exterior wood and deck stains on the market today. It's manufactured using the highest quality of raw materials to offer superb protection from UV discoloration, wood rot, and water damage.
TWP Stain Dealers
Gemini/Amteco Coatings is the manufacturer of TWP wood preservative. TWPstain.com is their authorized online dealer. Gemini Coatings is a 100% employee-owned company. It is the people of Gemini and their commitment to excellence that has made the company successful. Their state of the art facility is one of the most modern coating manufacturing plants in the industry. Their commitment to consistent, high-quality materials, manufacturing procedures, labeling, packaging, and shipping is in a class of their own.
Gemini Coatings manufactures a large range of wood finishing products such as varnishes, lacquers, primers, sealers, urethanes, acrylics, waterbornes, and of course the TWP product line. Each of the Gemini products embodies the company slogan, "Finish With Excellence".
TWPstain.com is committed to bringing Gemini's line of TWP stain to the consumer through help and education. As the official authorized online dealer, TWPstain.com offers hands-on TWP stain reviews, help articles, and how-to tips, as well as a full line of TWP stain products.
With such a high-quality class of TWP stain manufacturers, TWP will continue to be the cutting edge total wood preservative of the industry.
TWP stain manufacturer for TWP 100 and TWP 1500 Wood Deck Stains