Last Updated on January 30, 2023 by TWP Help
The Best TWP Stain for Log Homes 2023 – TWPStainHelp.com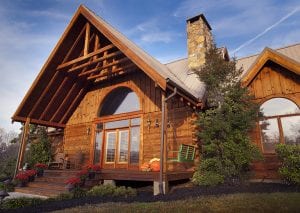 With log homes, weather protection can go a long way in preserving the appearance and integrity of the logs. Shielding a log home's exterior from damaging UV rays and water absorption is the key to a long-standing solid structure. The right weather-protective finish will also enhance the natural beauty of the logs giving your log home the rustic look it deserves.
The best TWP Stain for log homes is the new 1500 Series Wood Stain. The 1500 Series is designed to absorb better, dry quicker, and outperform the preceding TWP 500 Series formula. With a low VOC level, the 1500 Series Stain is available in all 50 states and is an EPA registered wood preservative.

Best TWP Log Home Stain
The excellent water-resistant properties of the 1500 Series prevents log cracking, splitting, and premature discoloring. With a 60% – 70% solid content blend, it dives into the wood pores to shed water and block out harmful UV damage. It rejuvenates the wood by replacing its diminishing natural oils and enhances the log home's appearance.
TWP 1500 Wood Preservative also contains its own mildewcides to prevent fungi, mold, and mildew growth that may lead to wood rot and premature stain failure. Mold and mildew growth is a leading cause of structural damage.
Available in 9 different semi-transparent colors, TWP 1500 Series will give your log home a brilliant finish that will last for several years. The easy to apply and maintain formula will help keep maintenance costs down while keeping your log home looking good year-round. The 1500 Series Wood Stain truly is the best TWP stain for log homes hands down.
Need Help? Ask Below!